Dec 22, 2018
Maine Beer Co. was started with a goal to "Do What's Right"
Dan Kleban and his brother David founded Maine Beer Company with a single recipe and the goal to "Do What's Right." That mantra carries through in every aspect of running their business from the beer they brew, to employee relations, and how they support and give back to their community.
Dan joins us this week to talk about that philosophy and the passion he has to see it through. We enjoy a few Maine Beer Company beers as the conversation moves on to a discussion about the collapse of DME, a large brewing equipment manufacturer, and how that could be a nail in the coffin for some new brewers. Of course, we talk about brewing hoppy and balanced beers and teaching craft beer neophytes that hoppy and bitter are not the same thing. Dan also shares his passion for environmental causes and how their pledge to 1% For The Planet supports those causes, as well as the impact that brewing with local ingredients has on our environment.
[caption id="attachment_45659" align="aligncenter" width="800"]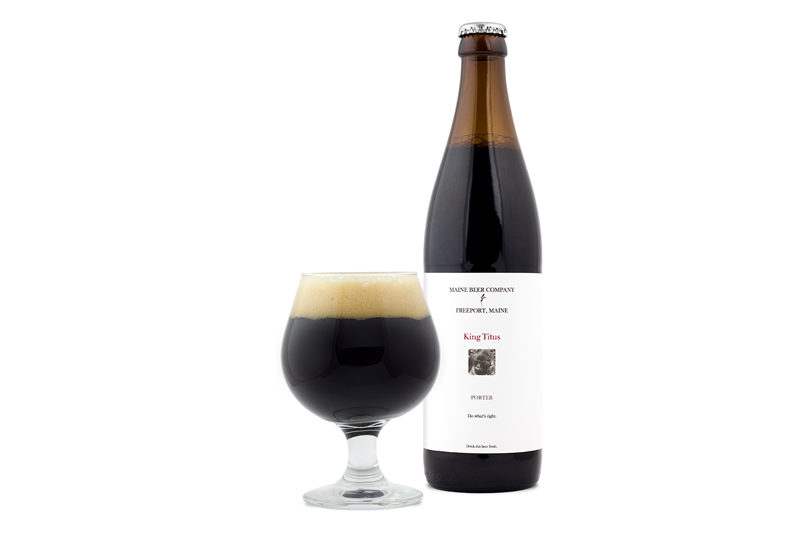 While most of Maine Beer Co.'s beers are meant to be enjoyed fresh, our 2106 King Titus Porter was still drinking very well. Hops had faded but it still delivered big roasty and chocolatey notes. (Photo: Maine Beer Co.)[/caption]
Beer Guys Radio Craft Beer Podcast Episode 156
Maine Beer Company's Dan Kleban
EPISODE GUIDE
Guest Introduction | 00:58
Dan's trip to Atlanta | 01:10
Maine Beer Co. MO | 02:20
Maine Beer Co. Peeper Ale | 02:58
Brewing for balance | 03:55
Bringing American hoppy ales to New England | 04:35
Hoppy ≠ Bitter | 05:38
The Week in Review | 06:23

Monday Night Situational Ethics Release
Contrast Artisan Ales grand opening
Tap & Six Anniversary
SweetWater releases Sierra Nevada Resilience IPA

Beers of the Week | 08:25

Harpoon Dunkin Coffee Porter
Good Word Brewing Anna Fantastic
Maine Beer Co. MO
Maine Beer Co. Woods & Waters
Maine Beer Co. King Titus 2016
Untitled Art Neopolitan Stout (surprise addition)

Craft Beer News | 09:48

Discussion on brewing equipment manufacturers DME's collapse

Maine Beer Co. Woods & Waters (VinePair #3 beer of 2018) | 15:17
Maine-grown barley | 16:48
Brian's poutine epiphany | 17:34
Maine Beer Co.'s beginnings | 19:15
"Do What's Right" | 20:17
Maine Beer Co. King Titus | 27:04
Arguing with a monkey scientist | 28:55
Drink Fresh! | 29:14
Brewing a beer for aging | 29:44
16 beers in 10 years | 30:46
Shifting brewery business models | 31:21
Are breweries releasing too many new beers? | 32:30
Keeping your beer relevant | 36:00
1% For The Planet | 39:30
Solar power at Maine Beer Co. | 41:45
Sourcing local ingredients | 44:52
Choosing where to give back | 47:12