Mar 21, 2020
Ironmonger Brewing and Viking Alchemist Meadery team up for destination location in Marietta, GA
March was supposed to be a big month for celebrations in Cobb County, GA. The local tourism bureau dubbed the county-wide event Bubbles & Brews to celebrate all their great craft beverage makers. They did not plan for a global pandemic to take over mid-month.
Ironmonger Brewing and Viking Alchemist Meadery had big plans as well. Ironmonger landed the coveted St. Patrick's Day party for the Bubbles & Brews event and Viking Alchemist planned to debut their new Ironmonger-adjacent taproom in early April. The doors are still open at Ironmonger and the plan to keep it that way as long as they can, they have taken steps to be extra clean and to encourage social distancing. Viking Alchemist continues the work on their taproom and will debut as soon as they can.
If you do make the trip up to Ironmonger you can enjoy a cold beer while throwing some axes with your friends at the Ironmonger Axe Throwing Range. Or take it easy in the tasting room and stare at the big screen that would have the game on, if there were any games being played.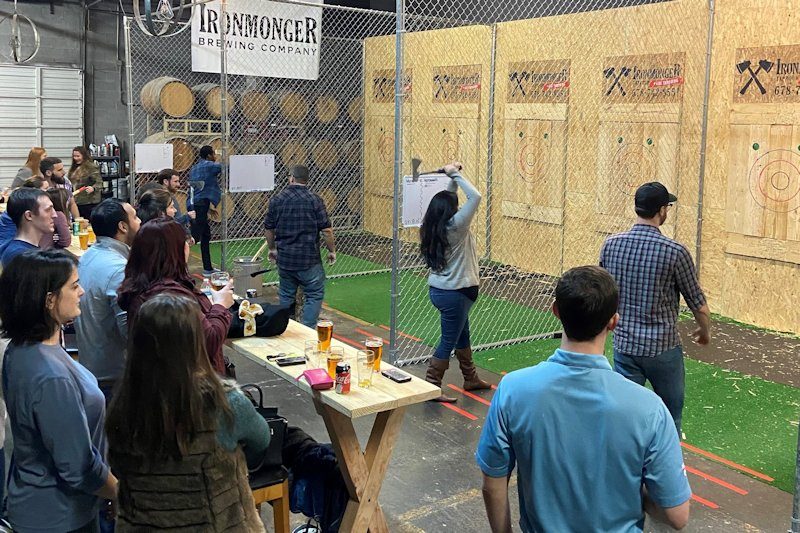 Grab your friends for some axe throwing at Ironmonger Brewing. (Photo: Ironmonger Brewing)
We chat with Ironmonger about the beers they have on new, including a popular Vienna Lager in conjunction with ATL Rugby, as well as some sodas from their Naughty Soda brand. In addition to the brewery, meadery, and axe throwing the Ironmonger team would like to add some food choices or perhaps a distillery to their complex to complete the Ironmonger Experience.
Viking Alchemist gives us a primer on mead styles and tells us about their TWO new taprooms opening soon, and we try to talk them into making some Smoothie Meads.
Check out Ironmonger and Viking Alchemist to sling some axes and grab a drink. If there's no baseball on maybe you can see what's playing on The Ocho.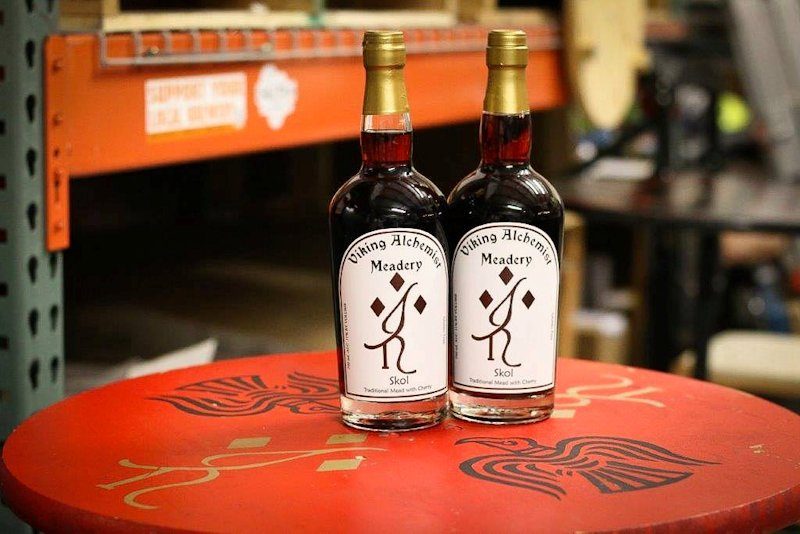 A sampling of the meads from Viking Alchemist Meadery. (Photo: Viking Alchemist Meadery)
The Beer List
Ironmonger Celtic Cross | Barrel-aged Dry Irish Stout
Ironmonger Rugby ATL | Vienna Lager
Viking Alchemist Pompeii | Semis-sweet Mead aged in Lazy Guy Distillery Smoke City bourbon barrel
Viking Alchemist Skol | Cherry Mead
Arches Brewing / Nappy Roots Kentucky Mud | Chocolate Milk Stout