Feb 8, 2020
Rainy Day Brewery wants you to brew your own beer and explore some classic styles
Amid the craze of massively-hopped IPAs and boozy, barrel-aged stouts there's a bit of a resurgence in the love of classic beer styles. Here in Georgia, and I'm sure some other places as well, we're seeing breweries focus on these drinkin' beers. Pale Ale, Pilsner, Blonde Ale, and even a simple Porter or Stout can be a great beer to relax and enjoy. No hype, no lines, no madness, just great beer.
Michael Syrop and Ron Mitchell of Rainy Day Brewery share how these simple beer styles can really test a brewer's skill. There's nowhere to hide with these beers. No huge fruit additions or bourbon-barrel to mask flaws. What you brew is what you get. Rainy Day Brewery won the top Homebrewers spot in our Best of Georgia Beer 2019 survey so we invited them to join us on a show and share their tips for homebrewing.
The best part of creating your own homebrew recipes is the research
Ron and Michael share with us what got them started in homebrewing and why you would want to start homebrewing with the huge variety of beers available today. They share their process for creating your own homebrew recipes. My personal favorite step is all the research that goes into it. I'm all about the hard work.
We also talk about new developments in brewing processes and science, experimental hops and other interesting ingredients, and a special #5thSegment on brewing for competitions.
Homebrewing can be simple and relatively inexpensive to get started. It's a great way to spend a day with your friends, or a quiet day doing a solo brew. Go on and find yourself a homebrew club and dive in.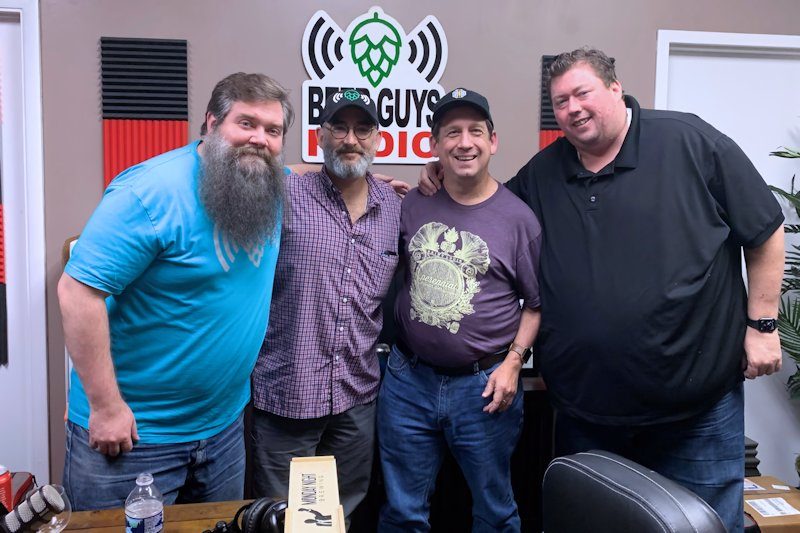 BGR+RDB! Rainy Day Brewery's Ron Mitchell and Michael Syrop shared their brewing tips and their beer with Tim and Brian this week. (Photo: Rainy Day Brewery/Michael Syrop)
ICYMI: More homebrewing talk