Mar 14, 2020
Beer and math and ancient yeast mix it up at Fractal Brewing Project
Fractal Brewing Project is one of the new kids on the Huntsville beer scene but their Head Brewer Bradley "Robo" Robison isn't new to the game. Robo previously brewed at Huntsville's Below the Radar and Rocket Republic, and he also served the good 'ol US of A in the United States Marine Corps.
Robo and brewery owner Larry Lowe joined us in the studio this week to open some beers and chat. We talk about their awesome Grisette that uses a revived 18th Century yeast and the origins of this style, originally brewed for miners. We press them on their stance on hard seltzer and why craft breweries are jumping on that bandwagon, and if there's much difference in a seltzer or a beer with cereal or candy in it.
Fractal is in Straight To Ale's original building (Straight to Ale has moved to the Campus 805 development in Huntsville) and how they want to preserve everyone's good memories of the place while offering them a new and exciting experience. We really enjoyed the brews we tried - the aforementioned Grisette, a Saison, an Amber Ale, a Fruited Sour, and a fantastic Baltic Porter. If you're heading to Huntsville stop by the taproom and try your hand at a math problem or two while enjoying some of their tasty brews.
A peek inside the sparkling taproom at Fractal Brewing Project. (Photo: Fractal Brewing Project)
The Beer List
Fractal Amber Ale
Fractal Baltic Porter
Fractal Black IPA
Fractal Guava Mango | Sour Ale
Fractal Grisette
Fractal Saison
Fractal Time Taker | German Pilsner
Six Bridges Circus Mind | Tart Ale with blueberry, cherry, guava, cinnamon, Peach Roasters coffee, and lactose
Wild Leap Alpha Abstraction DIPA Vol. 11
ICYMI | More from the Dirty South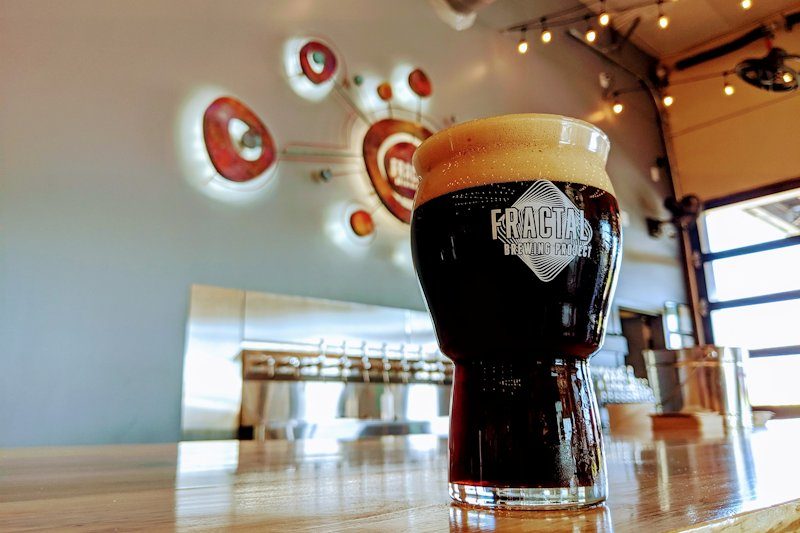 One of the tasty beers offered at Huntsville's Fractal Brewing Project. The taproom also features ciders and non-alcoholic choices. (Photo: Fractal Brewing Project)