Jan 11, 2020
Bottleshare founder Christopher Glenn lives to help those in need
Last week we sat down at Bottleshare Benefit Bash Vol. 1 to talk with Bottleshare founder Christopher Glenn as well as his collaboration partners Trey Sinclair of Dry County Brewing and Sean O'Keefe of Pontoon Brewing.
Chris' story is pretty amazing, after a serious accident left him unable to return to his previous career his former boss (Sinclair) shared an idea he had for "The Bottleshare." Chris was excited, ran with it, and has grown it into something much bigger than the original idea. Bottleshare's motto is Raising Glasses, Raising Hopes and their mission is to help those in the craft beverage industry that face hardships that pose a financial burden. At the Benefit Bash, Chris presented a check for $15,000 to Jennifer Barnes, widow of Modern Hops co-founder Philip Barnes.
[caption id="attachment_46754" align="aligncenter" width="800"]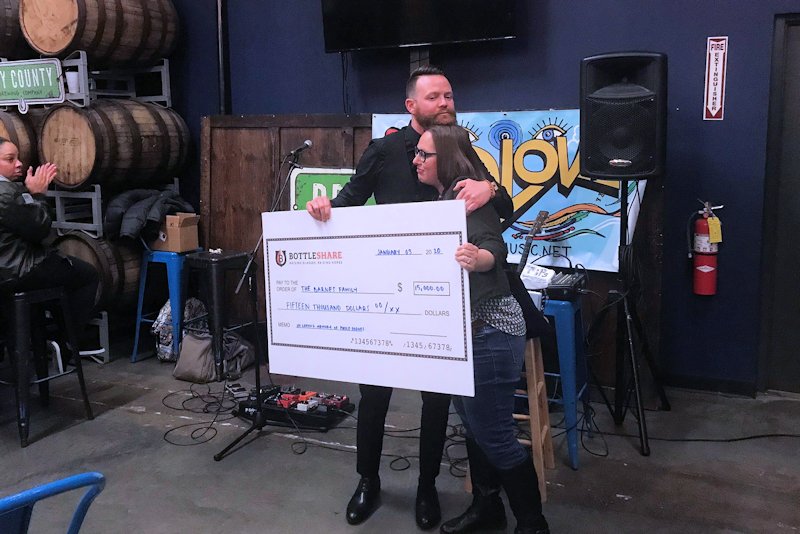 Bottleshare founder Christopher Glenn presents a check for $15,000 to Jennifer Barnes, widow of Modern Hops co-founder Philip Barnes, at the Bottleshare Benefit Bash Vol 1.[/caption]
Collaboration is key
Glenn tells us many times how the support of Dry County and Sinclair helped grow Bottleshare. One of the ways the organization raises funds is through collaboration beers. Dry County was Bottleshare's first collaboration partner and have partnered with them on other beers as well. More collaborations are coming up from breweries like Atlanta's New Realm and New Orleans' Urban South.
Although slightly delayed due to some medical needs, early this year Glenn will embark on his #RGSA2020 tour. That's Raising Glasses, Saving Asses; a slight spin on the core slogan. RGSA will take Bottleshare across the US with stops in New Orleans and Denver already scheduled. The mission is to raise awareness of the organization, brew up some collaborations, and find partners for their new Bottleshare Collective.
[caption id="attachment_46755" align="aligncenter" width="708"]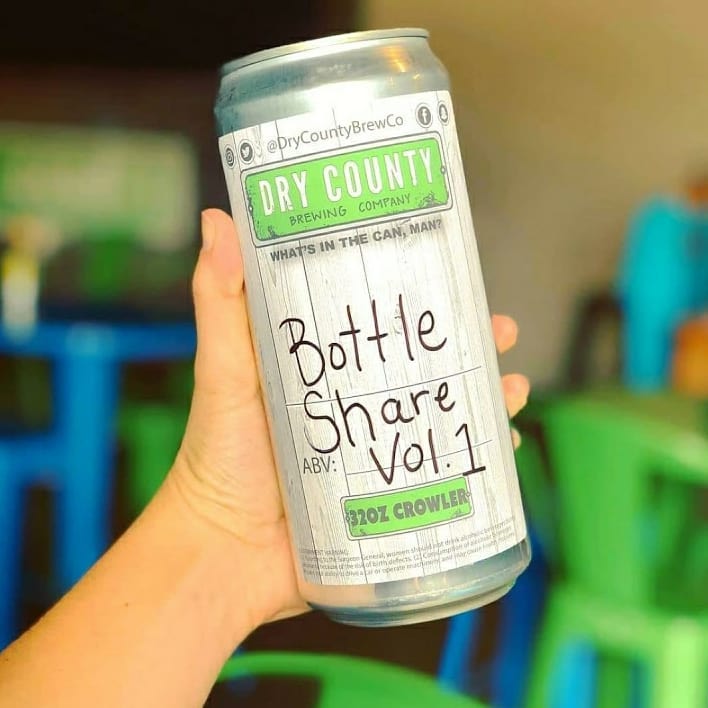 Bottleshare raises funds through many channels, including sales of collaboration beers like Vol. 1 with Dry County Brewing.[/caption]
The Beer List
Bottleshare / Dry County / Pontoon / Leprechauno Meadery Collaboration Vol. 6 | Fruited Braggot
Dry County Low Key IPA
Dry County Plank Pils
Dry County Kennesaw Bourbon Ale (KBA)
ICYMI: More to listen to
Check out some previous appearances from Bottleshare, Dry County, and Pontoon Brewing.