Apr 3, 2021
Back Paddle Brewing brings craft beer to tiny Lincolnton, Georgia
Back Paddle Brewing is a newer brewery in the small town of Lincolnton, GA. They are the first, and only, brewery in town and in an area that isn't exactly craft-focused. Owner Kyle McCloud and Head Brewer Jason Slater spend time with their new customers educating them on craft beer but they still get plenty of people looking for something that "tastes like Bud Light."
McCloud opened his brewery on a tight budget and built much of the space himself, including his brewhouse. Without the budget for expensive, jacketed fermenters that would allowing cooling his beer to proper fermentation temperatures for most yeast he decided to brew with all kveik and Norwegian Farmhouse yeasts instead. These unique yeasts are able to do their work at higher temperatures than most others. Back Paddle offers many styles that you don't typically see using kveik, like an Imperial Stout and Scottish Ale. We also discuss the brewery's mission to support his community through his #beer4good program and donate to veterans' organizations.
[caption id="attachment_47626" align="aligncenter" width="800"]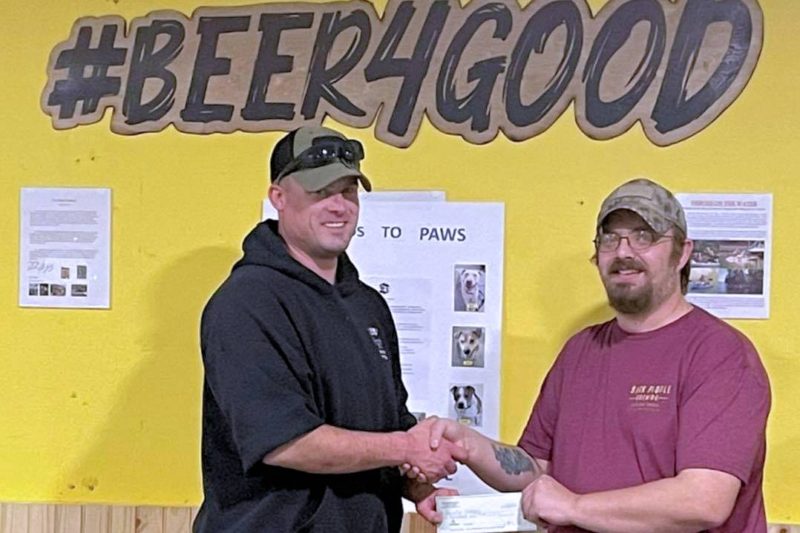 Back Paddle Owner Kyle McCloud presents a check to The Fallen Outdoors Georgia Chapter as part of his #beer4good program. (Photo: Back Paddle Brewing)[/caption]
Never Alone IPA seeks to raise mental health awareness and suicide prevention
We also speak with DJ Brian Orlando about his collaboration with Long Island's 1940s Brewing Company. Never Alone is a DDH NEIPA that supports mental health awareness and suicide prevention by donating a portion of their proceeds. Orlando lost a friend to her battle with depression and he supports these causes any way he can.
Two years ago he brought members of Candlebox, Wheatus, and Sponge together to shoot a video for Choose Song at the brewery for the same cause. You can view the video by scanning a QR code on a can of Never Alone, or right here.
Mental health awareness and suicide prevention resources
National Suicide Prevention Lifeline

The Beer List
Back Paddle Brewing

Battle of Dunvegan Scottish Ale

Cat Lying in the Sun Tripel

Couldn't See the Ground Imperial Stout

Old Fashioned Superstition Lager

Sheets of Empty Canvas Back IPA

W.A.P. IPA
Craft Beer News
More Great Breweries
If you enjoy the show please consider supporting us on Patreon!