Feb 2, 2019
Halfway Crooks, Bold Monks, and a Schoolhouse coming soon to the Georgia beer scene
Recently, we sat down at the 15th Annual Atlanta Cask Ale Tasting and talked with a few of the folks behind some of Georgia's upcoming breweries. This is our 3rd year at the festival and it's become a tradition to catch up with some of our upcoming breweries. We also talk with festival organizer Owen Ogletree about cask ales and the changes he's seen hosting the festival over the years. As a bonus, we're joined for a quick chat with UK beer writer Rob Macardle, editors of CAMRA's Leicester Drinker.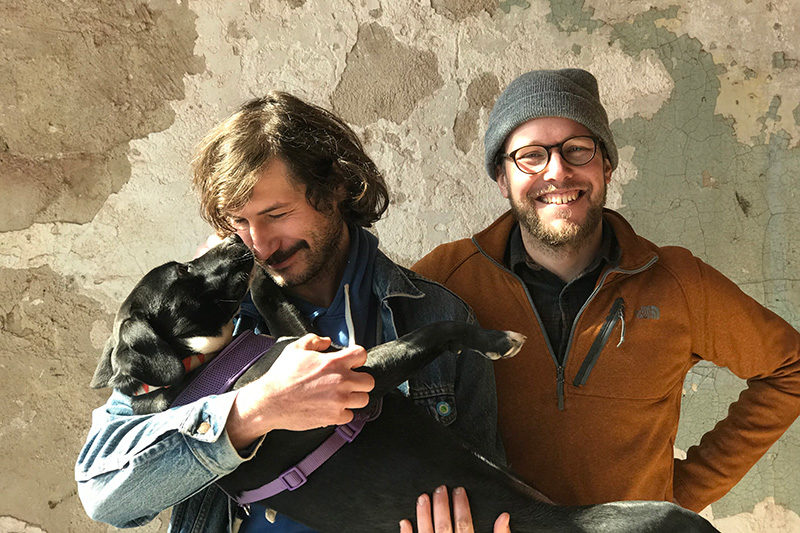 Halfway Crooks Beer founders Shawn Bainbridge and Joran Van Ginderachter pose with their furry friend at their brewery in Atlanta's Summerhill neighborhood. They are targeting a Spring 2019 opening.[/caption]
Brewery Guests
The Bold Monk | John "JR" Roberts is currently building The Bold Monk in Atlanta's hot Westside neighborhood. In addition to the new venture, JR also owns Max Lager's brewpub in downtown Atlanta. The area is also home to the recently opened Steady Hand Beer Co. and the recently announced second location for Scofflaw Brewing Co. The Bold Monk Stained Rose, a barrel-aged Wild Saison with grapes and cherries, took 1st Place for Specialty Beer at the event.
Schoolhouse Beer | Thomas Monti and Justin Waller are the masterminds behind Schoolhouse. The schoolhouse theme is inspired by their background as teachers. The brewery is a "graduation" of sorts, the duo currently owns Schoolhouse Beer & Brewing in Marietta which sells packaged beer, growlers, and homebrew supplies. For those lamenting the closure of a local homebrew shop don't worry, the brewery will also have a homebrew shop inside.
Halfway Crooks Beer | One of Georgia's most anticipated breweries, Halfway Crooks Beer is building out in a new development coming to Atlanta's Summerhill neighborhood, just next door to the former Turner Field. Owner Joran van Ginderachter and Shawn Bainbridge weren't able to join us at ACAT, so we took a trip down to check out their space and hear what's coming up.
Listen to past Atlanta Cask Ale Tasting episodes:
ACAT 2018 with Line Creek Brewing (Open), Split Batch Brewery (Planning) and Banyan Roots (Under construction as Best End Brewing Co.)
ACAT 2017 with New Realm Brewing Co., Variant Brewing, and Good Word Brewing (All open)