Sep 7, 2019
14th Star Brewing is craft beer Brewed With a Mission
14th Star Brewing co-founder Steve Gagner tells us how a late night of drinking led to a WalMart run for soapmaking supplies, and how this all ties in with his eventual interest in brewing and opening his own brewery. Despite the humorous roots, Gagner takes his beer very seriously and strives to serve his community, especially veterans.
The original business plan was jotted on the back of a notebook while Gagner served on the battlefields of Afghanistan. Upon returning home, the plan was refined with the help of his best friend and fellow soldier Matt Kehaya. 14th Star opened their doors in 2012 with a 3.5-barrel brewhouse. As demand for their beer grew, 14th Star moved their current location in 2014 and upgraded to a 30-barrel brewhouse.
We talk with Gagner about hazy IPAs and the difference in a Vermont IPA and NE IPA, maple beers (we kind of had to), and we talk about his efforts to serve veterans, common misconceptions the public has about veterans, and the best thing we can do to support veterans once they return home.
[caption id="attachment_46453" align="aligncenter" width="800"]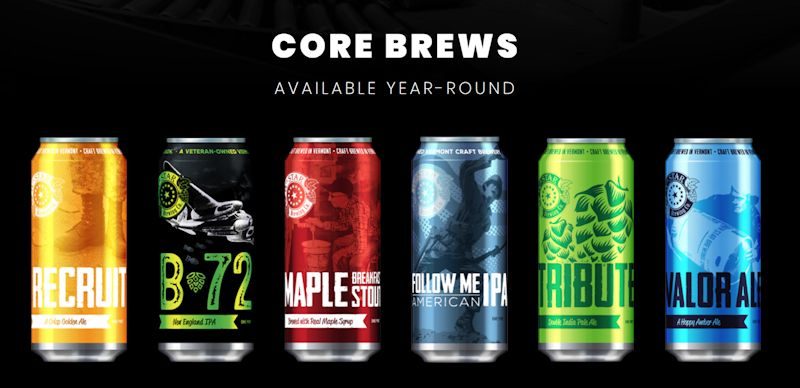 14th Star Brewing's core line-up. (Photo: 14th Star Brewing)[/caption]
Craft Beer News
The Beer List
Nappy Roots / Dancing Gnome Bluegrass Stain'd
14th Star Oktoberfest
14th Star B-72 New England IPA
14th Star Tribute DIPA
14th Star Maple Breakfast Stout
Next Week on Beer Guys Radio
Join us as we talk with Bend, Oregon's Deschutes Brewery.
ICYMI
Need more Vermont beer talk? Check out our recent episode with Sean Lawson of Lawson's Finest Liquids.
Subscriber now so you don't miss any of our awesome shows. https://pod.link/bgr